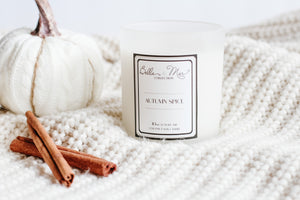 The quintessential fall candle, Autumn Spice is a warm, cozy scented candle blended with pumpkin, chai, and fall spices. 
100% coconut soy wax. Non-toxic, vegan, no added colors or additives
Hand poured 
Premium fragrance oil is paraben and phthalate free
WOOD WICK
Packaged in our Signature Bella & Mar gift box (10 ounce only)
Reuse or recycle our packaging
Be sure to trim your wick to a 1/8-1/4 inch before lighting your candle each time
4 ounce: approx. 20 hour burn time (for small spaces). Burn for approx. 2 hours to avoid tunnelling.

10 ounce: approx. 50 hour burn time. Burn for approx. 3-4 hours to avoid tunnelling.